California Approves Balanced Budget for 2018/2019, what does that mean for our local communities specifically? We wanted to know more….
Victory Highlights for the 56th District affecting the Coachella Valley, Salton Sea and the entire Imperial County outlined by our Assemblymember of the 56th Assembly District Eduardo Garcia.
Assemblymember of the 56th District Eduardo Garcia (D-Coachella) serves as your Assemblymember in the California Legislature and chairperson of the Assembly Committee on Water, Parks and Wildlife.
Garcia represents the 56th district, which comprises these cities and communities in both Riverside and Imperial counties:
Bermuda Dunes
Blythe
Brawley
Calexico
Calipatria
Cathedral City
Coachella
Desert Hot Springs
El Centro
Holtville
Imperial
Indio
Mecca
Oasis
North Shore
Salton Sea
Thermal
Thousand Palms
Westmorland
Garcia is seeking re-election on November 6, 2018. There are 80 total Assemblymembers that make up the California Legislature. All 80 Assembly seats are up for election in 2018. California state assembly members serve two-year terms, with all seats up for election every two years.
Right after the vote to approve our California State 2018/2019 Balanced Budget Assemblymember Eduardo Garcia (D-Coachella) applauded several 56th Assembly District budget victories.
"I commend the leadership of both houses of the Legislature in conjunction with our Governor for putting forward a budget that would empower our communities, alleviate poverty, curb barriers to employment, address homelessness, fortify investments into education including special education and career technical programs, help make college more affordable and ensure that our most vulnerable have equitable opportunities to succeed."
56th Assembly District Budget Victory Highlights:
EDUCATION
$1 million – Imperial Valley College's Medical Assistant Program and Correctional Academy Program
Assemblymember Garcia worked hand in hand with Imperial Valley College to advocate for these critical regional curriculum investments.
$269 million – investments into the University of California system
$364 million – investments into the California State University system
$35 million – Online Education Initiative grants for community college districts.
$1 billion – additional childcare and preschool slots
$300 million – Low-Performing Students Grant Funding
Allocated for low-performing students, based on performance on assessments in English language arts and math.
$50 million – Local Solutions Grant Program
Solutions that address a local need for special education teachers.
$150 million – Technical Education Incentive Grant
$150 million – K-12 Career Technical Education Program
$15 million – Kids Coding in After School Education and Safety (ASES) programs
$10 million –Special Education Local Plan Areas to improve their ability to serve students with disabilities
$1.7 million – Suicide prevention training resources in schools.
WORKFORCE DEVELOPMENT
$15 million – AB 1111 (E. Garcia, 2017), Breaking Barriers to Employment grant program.
Allocation into this grant program was a priority for both our Riverside County Economic Development Agency and Imperial County Workforce Development Board in order to curb unemployment and build stronger regional economies. Funds would go towards training and employment for veterans, farmworkers, seniors, the formerly incarcerated and others experiencing difficulties re-entering the workforce
$16 million – Prison to Employment Program
SMALL BUSINESSES
$20 million – Small Business Development Technical Assistance Expansion Program
$3 million – California Small Business Development Center Program
These additional funds for small business technical assistance and development centers will open up critical resources for local veterans, women as well as other underserved minority business owners and aspiring entrepreneurs.
YOUTH REINVESTMENT
$37.3 million – Youth Reinvestment Fund
This fund will help support and further enhance the prevention services and leadership curriculums taking place in vulnerable California communities.
PUBLIC SAFETY
$3 million – General Fund to the Bureaus of Medi-Cal Fraud and Elder Abuse
$41,944,000 – El Centro Courthouse construction
$45,327,000 – Indio Juvenile and Family Courthouse construction
$10 million – California Family Justice Centers
Funding for multi-agency centers that provide support services to victims of interpersonal violence, including intimate partner violence, sexual assault, child abuse, elderly abuse, and human trafficking.
$6.5 million – towards reducing the backlog of untested sexual assault kits
HOMELESSNESS
$500 million – to address homelessness across our state
VETERANS
$1 million – CalVet mental health service grants
$8.5 million – Veterans resource centers
Assemblymember Eduardo Garcia (D-Coachella) serves as the chairperson of the Assembly Committee on Water, Parks and Wildlife. He represents the 56th district, which comprises the cities and communities of Blythe, Brawley, Bermuda Dunes, Calexico, Calipatria, Cathedral City, Coachella, Desert Hot Springs, El Centro, Holtville, Imperial, Indio, Mecca, Oasis, North Shore, Salton Sea, Thermal, Thousand Palms, and Westmorland.
If you like to learn more visit the Eduardo Garcia Re-Election Webpage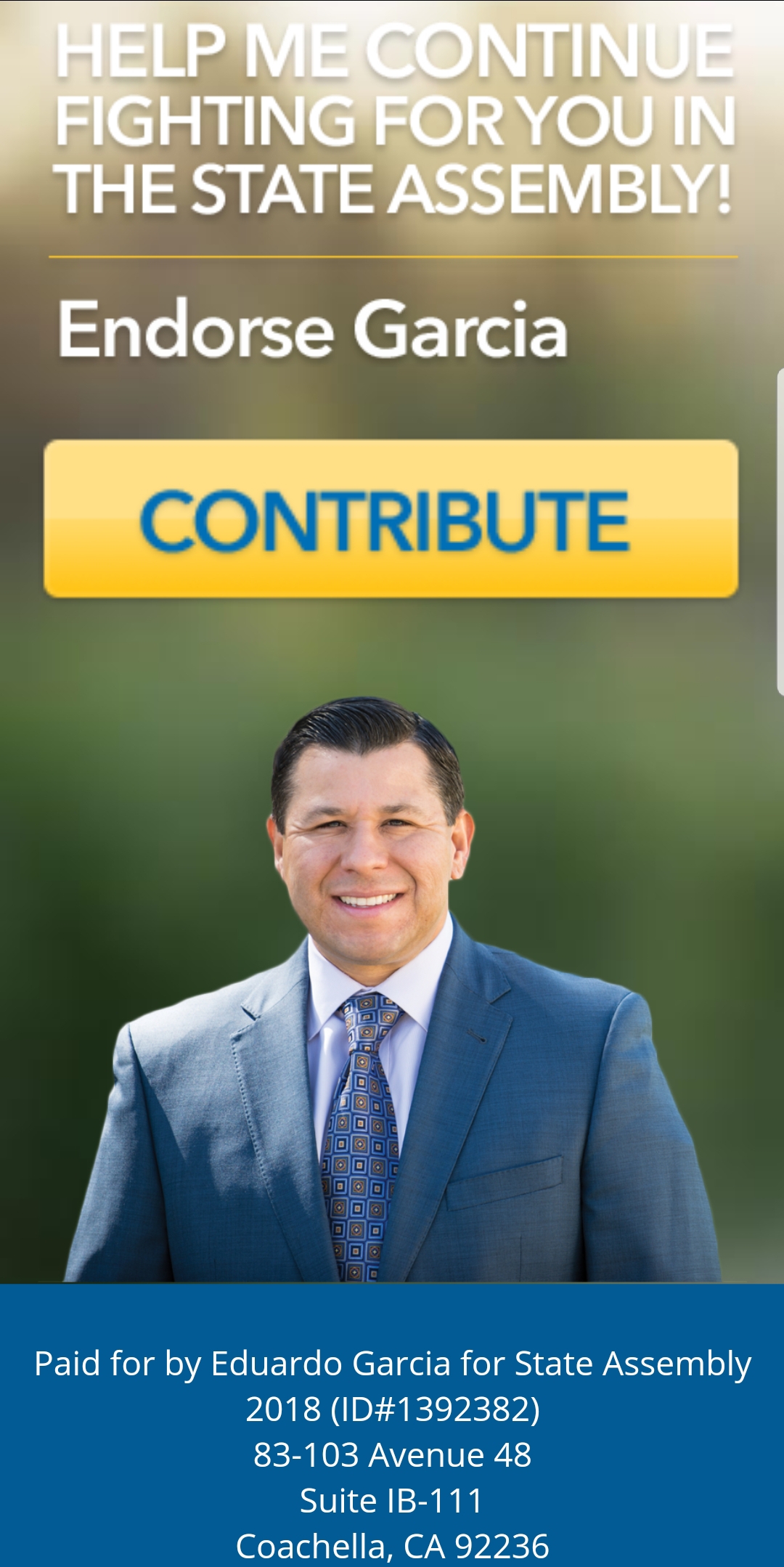 I want to let you know that our campaign for re-election to the State Assembly is growing stronger and I would like to enlist your support.


Would you consider helping me with a small contribution?
Any amount contributed to our campaign today would be a huge help to me — $5, $25, $50, $150 or more will make a difference to our campaign to have me continue fighting for you in the State Assembly!
Paid for by Eduardo Garcia for State Assembly
Vote Eduardo Garcia California State Assembly November 6, 2018