The Next Generation of Accident Attorney in the Coachella Valley
by Publisher CoachellaValley | June 1, 2021 8:05 am
(Watch the Live Interview Above[1] Click Play & Turn the Volume Up.)
Spotlight – Kevin Crockett boldly declares that he is the "Next Generation of Accident Attorney" in the Coachella Valley.
In an exclusive interview between Coachella Valley Media Group's Founder, Craige Campbell and Kevin Crockett, Partner, Crockett Legal Group[2], Kevin shared how there has been a powerful shift recently in the way Accident cases and awards are determined.
"The days of negotiating meetings over drinks or by phone, with your opposing council in Personal Injury cases is long gone," says Crockett
Today, in the year 2021, you need, personal and direct, communication with your attorney who has a wide range of current legal knowledge and knows how to utilize the onslaught of new technology that dominates today's entire legal process.
One's ability to to use all these newer tools has ushered in a new way Personal Injury and Accident Law is practiced successfully.
Whether in an office or the courtroom, the art of effectively telling a client's story with the proper amount of passion and persuasiveness is key to an attorney's success
Attorney Kevin Crockett, educational, informative, professional and affiable style, drew me in right away. He brings an entirely refreshing experience in very difficult situations.
Accidents… It's all they do…
The Crockett Law Group works exclusively on personal injury cases, which is the reason behind their slogan: "Accidents. It's all we do." Kevin shares, I've always been committed to the idea of becoming exceptional at one thing as opposed to being mediocre at several things.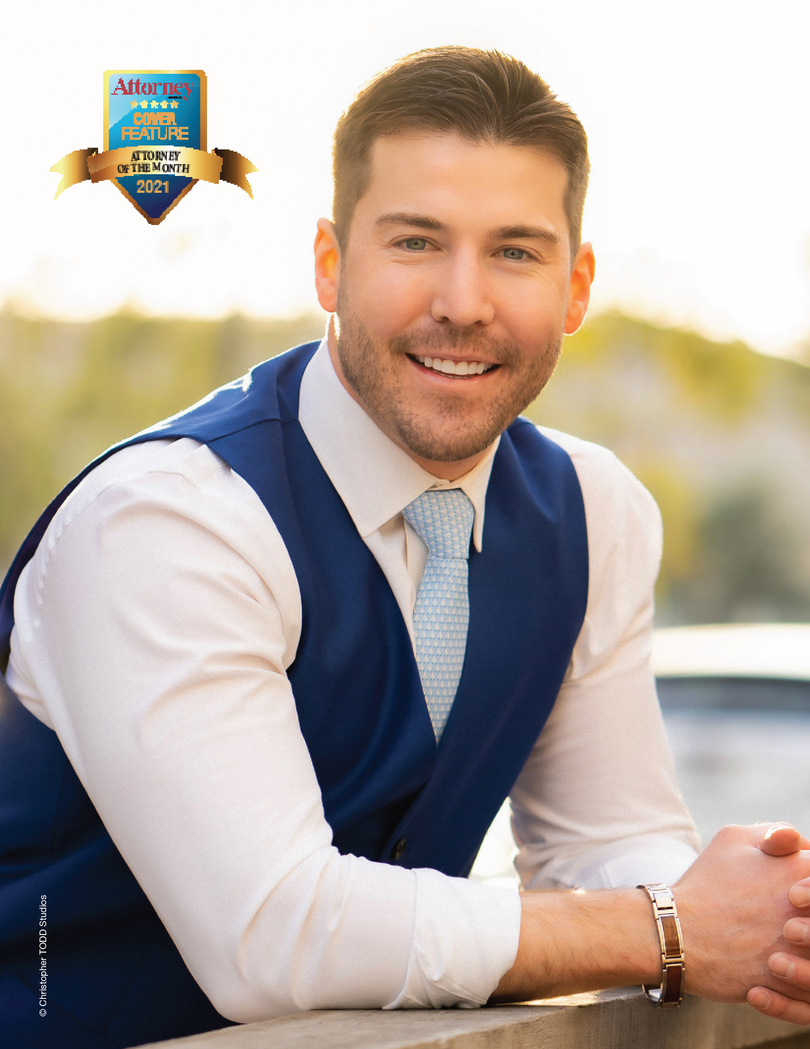 What sets our law firm apart from other firms that, also specialize in only personal injury cases, is how focused we are on the client and communication in particular. We recognize that outstanding client communication above all else will help us do a better job and lead to happy clients.
Kevin Crockett[5] wants to serve anyone with an injury that's non-work related. He is finding a niche with a mature demographic as well as with the LGBTQ community in the desert.
Accidents. It's all we do." Kevin shares, I've always been committed to the idea of becoming exceptional at one thing as opposed to being mediocre at several things.
Why is he the best lawyer to work with?
Crockett[6] brings a fresh, new energy to the Coachella Valley in personal injury law.
To me, being a good lawyer means to inspire hope in my clients—both in the case and for the future. A lot of clients end up coming to me frustrated because the insurance company is disputing liability for an accident or because they don't feel like their current attorney is on their side. At the end of the day, clients want someone to have their back and fight for them. That is why I make sure all my clients feel confident that their bad situation will reach a positive resolution and eventually closure.
"A lot of people find it hard to communicate with their attorney," he says. "Clients often have to talk to assistants of other lawyers, but my clients can reach me directly when they need to."
Our preference to concentrate our practice in just one area is without a doubt also of benefit to the injured clients we serve. Rest assured, we've probably seen an injury or accident like theirs before and know exactly what to do. As personal injury attorneys, our typical client is someone whose life has been disrupted as a result of an injury they sustained due to somebody else's negligence.
Most often, our clients have a broken bone, an injury to their muscles, tendons, or ligaments, or a persistent headache or concussion. They may have been injured in a car accident, a slip and fall, or even a dog attack. It's our job to help them recover compensation for their loss and get them back on their feet.
For example, I might obtain a windfall recovery for a client, but if he or she felt our firm had poor communication, then they probably won't refer our services to family and friends and probably won't leave us a positive review either. That's why we give our clients as many different ways to communicate with us as possible, and the preferred form of communication is the client's choice.
You Receive The Attorney's Direct Line
Another difference that sets our law firm apart from others is that you'll get to speak with a licensed attorney during the intake and that attorney will be assigned to your file for the life of your case. When an injured person reaches out to a personal injury law firm for help, they expect to speak with an actual lawyer and are oftentimes disappointed to learn they're speaking with a non-attorney.
That's simply not the case with us. We are committed to building a relationship with each of our clients from beginning to end. We know how frustrating it can be for clients to feel as though they've been bounced around from person to person, and it can cause them to lose confidence in the firm they hired. Although there is a team to help on any given case, rest assured there will be a consistent face from the beginning of your case until the end.
We give our clients the direct line to everyone who will be working on their case, including the attorney, so they can easily reach someone 24/7 without having to go through reception.
We Won Twice As Much For Our Client
During our live interview, Kevin, recounts how two individuals in the same accident won claims with completely different results.
About six months into my career I handled a case involving a boyfriend/girlfriend who were involved in a car wreck. When the couple split shortly after finishing their medical treatment, the girlfriend hired another attorney while the boyfriend stayed with my firm. Although handling a case based on the same set of facts involving the same injuries and treatment, the two attorneys had starkly different outcomes.
Crockett settled his client's case for two times the amount that the other attorney did, an attorney who had been practicing for more than 30 years. [8][9]
Focus on People Earns Applause for Personal Injury Attorney Kevin Crockett
Kevin Crockett, Esq. is an award-winning personal injury lawyer who understands the impact an accident can have on someone's life. That's why he aggressively fights for each of his clients. He was named a Rising Star by Super Lawyers Magazine three years in a row (2021, 2020, 2019) and Ones to Watch for Personal Injury Litigation by Best Lawyers (2021), among other awards.
We also give our clients the direct line to everyone who will be working on their case, including the attorney, so they can easily reach someone 24/7 without having to go through reception.
He cites as an example a client he recently represented in a traffic injury. Although the client wasn't at fault, it also wasn't a straightforward rear-ender case either. The victim contacted a prominent law firm and was told that unless the police report placed the other party at fault, the firm would not take the case. Bigger firms can afford to be selective, so an injured person in that situation may end up feeling rejected and hopeless.
Crockett says clients like this are just looking for a glimpse of hope that somebody will fight for them and be their voice even knowing there is no guarantee for a monetary recovery. "Quite frankly, I have a lot of fun working on those cases; they tend to be more interesting than the day-to-day type cases. I get to dig in and be a little more creative in my approach. Luckily, the fun I have with it also benefits my clients."
Although managing his own firm only since November 2020, he and his team have already earned rave reviews and a slew of awards from his peers.
Awards & Honors
Multi-Million Dollar Advocates Forum – Lifetime Member
Best Lawyers: Ones to Watch for Personal Injury Litigation (2021)
Top 25 – The Motor Vehicle Trial Lawyers Association
Top 10 – The Trucking Trial Lawyers Association
Rising Star – Super Lawyers Magazine (2021, 2020, 2019)
Top 40 Under 40 – The National Trial Lawyers (2021, 2020)
Top 100 Personal Injury Attorneys – American Academy of Attorneys (2020)
Top 100 High Stakes Litigator – America's Top 100 High Stakes Litigators (2020)
Top Verdict: Top 20 Settlements for Motor Vehicle Accidents in California (2020)
Top 10 Attorneys in CA for Personal Injury Law – Attorney and Practice Magazine (2020)
Top 10 Under 40 – National Academy of Personal Injury Attorneys (2020)
Lawyers of Distinction – Featured Attorney (2020)
National Outstanding Young Lawyer – Best Attorneys of America (2020)
Top Verdict: Top 50 Settlements for Personal Injury in California (2019)
10 Best Client Satisfaction Award – American Institute of Personal Injury Attorneys (2019)
Clients' Choice Award – Avvo (2018-Present)
Top Verdict: Top 50 Settlements for Car Accidents in California (2018)
Top Verdict: Top 20 Settlements for Pedestrian Accidents in California (2017)
Million Dollar Advocates Forum – Life Member
Perfect 10.0 'Superb' Rating – Avvo
National Association of Distinguished Counsel – Fellow
Lead Counsel Rated
Life is better now! It's going to be tough to thank Kevin enough! His guidance, support and optimism from day one helped me get through the arduous process of appointments and treatments required to recover from my injuries and pay the bills. My calls were returned promptly, and I always felt that he truly cared about me, my case, and the outcome. I know he fought hard and brought my case to a very successful conclusion. Oh, and I can't forget, his support team gets five stars as well. Thank you, Kevin, thank you! —Rob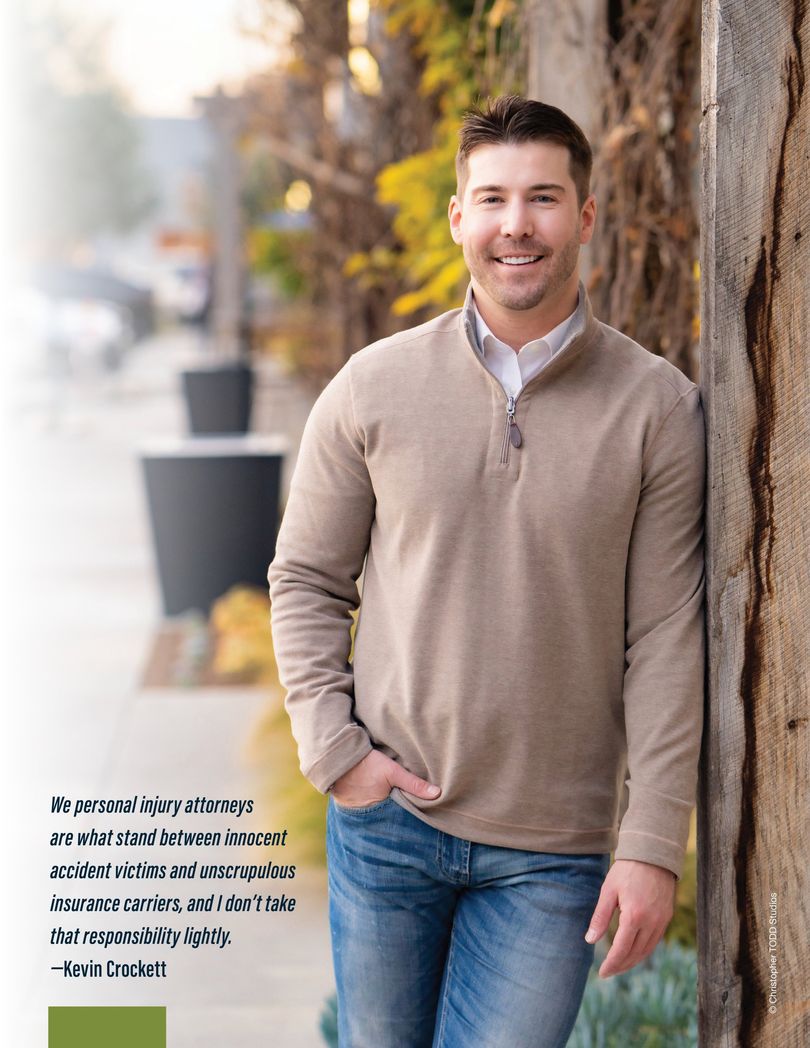 Legal Precedents
Crockett comes from a family of several attorneys. His eldest sister started the trend you could say with her own personal injury law firm on the east coast. Overall, his family has practiced a wide range of different areas of law—intellectual property, environmental, employment, family, workers compensation, construction defect, etc. "You name it, we've probably practiced it," he says.
Before applying the law, he had wanted to enforce it as a police officer. He had completed the exams and background check. But with the financial crisis of 2007-2008, government agencies enacted hiring freezes. It turns out this was fortunate for his future clients. Crockett went on to major in Criminology, Law and Society, before attending law school.
"Starting out my career working for such an established and reputable law firm gave me access to many resources that most of my peers did not have—from our relationships with some of the greatest legal minds in personal injury to the opportunity to handle a high volume of serious injuries cases right out of the gate. I've already represented as many clients, and settled as much in money, as some other accident attorneys who have been practicing 20-plus years."
His first job out of law school was for a large personal injury firm, but he later answered his call to form his own firm. He says his edge is something some might consider a disadvantage—his age.
By 33 years old, he has already accumulated a slew of accolades and substantial experience commonly seen by older attorneys while maintaining a hunger and drive commonly found in younger attorneys.
How Did We Meet?
I met this award winning accident attorney when he emailed me about an article we published on the City of Coachella[12], making a controversial decision to bring in the Bird E-Scooter to provide public and recreational transportation to the roads, and sidewalks within their borders.
Class action lawsuits have been filed Nationally against Bird and other E-Scooter Transportation Service Companies, mostly for blocking thoroughfares that lead to disability access being blocked and creating hazards when the e-scooters are not returned properly.
WATCH THE VIDEO ABOVE FOR KEVIN'S PERSONAL FEELINGS ABOUT THESE E-SCOOTERS. YOU WiILL BE TOTALLY SUPRISED….
We talked for near a half an hour. I was so excited to hear about his community involvement and prowess to share his story with passion and bodly offer his services to the Coachella Valley.
Having a Masters Degree in marketing myself, we bonded instantly talking about his profession, the new ad campaign he had just created for the Coachella Valley, launched July 6th[14] to introduce his services to our market.
I asked him about other articles that have been written about him and he pointed me to a handful, covering very difficult topics: Talking to Insurance Adjusters, providing Audio taped testimony to Opposing Attorneys, and so on.
One article stood out immediately because just weeks before, I was hit in my rear passenger quarter panel by a Range Rover pulling out into my lane from a parking lot on El Paseo in Palm Desert, California.
I had just left a fundraiser for Palm Desert High School we were spotlighting. Just a few blocks from home going only 11 miles an hour I get into an accident in Palm Desert.
Somehow even though I wasn't at fault, the opposing attorney built a case based on my "recorded" testimony. I literally violated every counsel provided in Kevin's article and they ruled a 50/50 shared responsibility. I had to cover my deductible and more. A call to Kevin even in this non Injury accident would have saved me $1000.00's of dollars.
The Next Generation of Accident Attorney in the Coachella Valley is Kevin Crockett…
Founding Partner, Kevin Crockett, began practicing personal injury law immediately out of law school at the UC Irvine School of Law. Throughout the years, Kevin recognized the importance of personalized support for each and every client, that many large law firms cannot guarantee. That idea of a niche firm that bridges the gap became the mission and vision of the Crockett Law Group.
Visit crockettlawgroup.com [17]760-999-4444
Contact Info:
Email: info@crockettlawgroup.com
Website: https://crockettlawgroup.com/[18]
Instagram: https://www.instagram.com/crockettlawgroup/[19]
Facebook: https://www.facebook.com/crockettlawgroup/[20]
Twitter: https://twitter.com/CrockettLawGrp[21]
Youtube: https://www.youtube.com/channel/UCiQt9OrfezscxhMYtwXM2jA[22]
Yelp: https://www.yelp.com/biz/crockett-law-group-irvine-2[23]
777 E. Tahquitz Canyon Way, Suite 200-205
Palm Springs, CA 92262
760-999-4444
100 Spectrum Center Drive, Suite 912
Irvine, CA 92618
714-714-7100
Endnotes:
Watch the Live Interview Above: https://youtu.be/afrif74j_y8
Kevin Crockett, Partner, Crockett Legal Group: http://crockettlawgroup.com/
Kevin Crockett – Crockett Law Group: http://CrockettLawGroup.com

Kevin Crockett

: https://crockettlawgroup.com/palm-springs/car-accident-lawyer/
Kevin Crockett: https://crockettlawgroup.com/palm-springs
Crockett: https://crockettlawgroup.com/palm-springs
New Generation of Accident Attorney accesible around the clock : http://CrockettLawGroup.com
: mailto:Info@AttorneyJournals.com
: https://wa.me/858-505-0314

Kevin Crockett, Esq. is an award-winning personal injury lawyer practicing in Palm Springs, Ca

: https://crockettlawgroup.com/palm-springs/car-accident-lawyer/

CrockettLawGroup.com

: http://CrockettLawGroup.com

article we published on the City of Coachella

: https://coachellavalley.com/city-of-coachella-partners-with-the-bird/
City of Coachella Partners with the "Bird": https://coachellavalley.com/city-of-coachella-partners-with-the-bird/
the new ad campaign he had just created for the Coachella Valley, launched July 6th: https://youtu.be/fkcdrPHCvOA
Top Five Things You Should Not Say to an Insurance Adjuster: https://gedmag.com/afterdark/top-five-things-you-should-not-say-to-an-insurance-adjuster/

https://CrockettLawGroup.com

: https://CrockettLawGroup.com
crockettlawgroup.com : https://crockettlawgroup.com/
https://crockettlawgroup.com/: https://crockettlawgroup.com/
https://www.instagram.com/crockettlawgroup/: https://www.instagram.com/crockettlawgroup/
https://www.facebook.com/crockettlawgroup/: https://www.facebook.com/crockettlawgroup/
https://twitter.com/CrockettLawGrp: https://twitter.com/CrockettLawGrp
https://www.youtube.com/channel/UCiQt9OrfezscxhMYtwXM2jA: https://www.youtube.com/channel/UCiQt9OrfezscxhMYtwXM2jA
https://www.yelp.com/biz/crockett-law-group-irvine-2: https://www.yelp.com/biz/crockett-law-group-irvine-2
Source URL: https://coachellavalley.com/the-next-generation-of-accident-attorney-in-the-coachella-valley/
---