Palm Springs Celebrates 85 Years!
by Publisher CoachellaValley | April 8, 2023 6:15 am
Saturday, April 8 – 11:30 to 9pm
Cruisin' Through The Years
The City of Palm Springs 85th Anniversary Celebration will be held on Saturday, April 8th from 11:30am to 9:00 pm in Downtown Palm Springs and the Downtown Park.
Palm Springs was Incorporated April 20, 1938. This year marks the 85th anniversary.
There will be a vintage car parade with so many cars it's a Guinness Book of World Records attempt. Have your picture taken in front of the vintage car that also matches your birth year, right by the Marilyn Monroe statue. (For inquiries on the vintage car parade, please contact Keith McCormick[1]). We are thrilled to announce Nancy Sinatra will be our official celebrity grand marshal for the parade.
Entertainment begins at noon with DJ's and live entertainment. Enjoy an Elton John tribute band in the downtown park beginning at 7 pm.
Dress your pet like your favorite Hollywood celebrity for the dog costume contest. Enjoy a special 85th Anniversary cupcake.
Nancy Sinatra, Celebrity Grand Marshal, 85th Anniversary Classic Car Parade
Fun will be had for the entire family, so come join us for the Palm Springs 85th Anniversary celebration!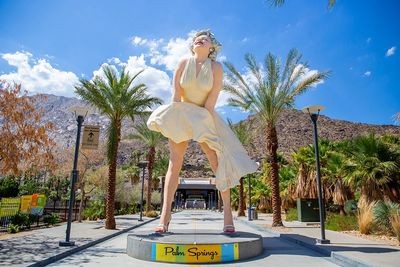 Event Rundown
Enjoy a wonderful day of classic cars, music, and fun as our legendary destination marks 85 years.
11:30 am – "Cruising Through the Years" Classic Car Parade, featuring Nancy Sinatra as our celebrity grand marshal, local celebrities, community leaders and City pioneers riding in a total of 85 vehicles from 1938 – when the City was first incorporated – to the current day! The parade kicks off from the Palm Springs Convention Center to the Downtown Park. Free bleachers for viewing will be available along Amado Road near the Jackie Lee Houston Plaza. Once the parade of cars arrives in the park, they will be displayed around the Forever Marilyn Sculpture. Don't forget to take a selfie in front of the car from the year you were born!
FUN FACT: The Guinness Book of World Records will be on hand as no city has have accomplished the feat of having so many cars marking 85 years in one place!
Some of the participants joining Sinatra in the parade include resident football legend Fred "The Hammer" Williamson, Super Model and local resident Beverly Johnson, the first African American woman to appear on the cover of American Vogue, local philanthropist Harold Matzner, Chairman of the Palm Springs International Film Festival, Charlie Pasarell, founder of the BNP Paribas Open, tennis legend Rosie Casals, Lisa Vossler Smith, CEO of Modernism Week, globally renowned local artist Phillip K. Smith, local resident Nelda Linsk, immortalized in the famed 1970 Slim Aarons photograph "Poolside Gossip," acclaimed local architect Hugh Kaptur, Evernell Black, the City's 86-year-old Senior Inspiration honoree, several former Palm Springs mayors including Ron Oden, Rob Moon and Will Kleindienst, along with Grant Fuhr and Gino Lamont from the Coachella Valley Firebirds, Emmy Award-winning journalist Hank Plante, local KESQ News Channel 3 anchors John White, Karen Devine, Haley Clawson and members of the news team, Mike Mozingo and Kris Long from the KNEWS Morning Show, Spectrum News Anchor Bianca Rae, vintage blogger and Spectrum news reporter Alison Martino, as well as a host of other local media figures and well known residents who have made an impact on the Palm Springs destination. Free bleachers will be set up near Jackie Lee Houston Plaza for residents to view the parade on a first-come, first-serve basis.
11:30 am – 5:30 pm – Welwood Murray Memorial Public Library, LGBTQ+ History & Archives of the Desert[4] will exhibit Sharing Our Desert's LGBTQ+ History, chronicling the history of events, organizations, and individuals that have helped to make the greater Palm Springs area the welcoming place that it is for LGBTQ+ individuals today. The exhibit is FREE to the public. Learn more at: https://lgbtqpshistory.org/[5]
12:30 pm – Opening Ceremony in front of Forever Marilyn. Ava Lynn Thuresson, recent contestant on NBC's The Voice, will sing the National Anthem. Don't forget to check out a magnificent historic installation of photographs chronicling the rich history of Palm Springs curated by the Palm Springs Historical Society.
1 pm – Car Show & DJ Set by Joe Kay. Joe Kay, the founder of Soulection, a globally recognized platform for music, and host of the critically acclaimed Soulection Radio show on Apple Music will curate a special 85h Anniversary DJ set in the Downtown Park featuring Souldies, Lovers Rock, Reggae & more. The set is presented by Splash House & Poppy Vacation Homes.
3 pm – Enjoy continued tunes in the park as well as an array of activities for children, including face painting, interactive games and arts and crafts brought to you by Palm Springs Parks and Recreation and the Palm Springs Public Library.

6 pm –  Pooch Costume Contest, brought to you by the Palm Springs Animal Shelter. Does your four-legged friend remind you of Liberace, Sonny Bono, Lucile Ball, Carol Channing, Elvis Presley – or another iconic Palm Springs celebrity? The contest theme is "Dress your pup like your favorite Palm Springs celebrity!"  Win a prize!
7 pm – It's time for the Rocketman! Enjoy a rockin' Elton John Tribute Concert in the Downtown Park Amphitheatre, brought to you by the City of Palm Springs, P.S. Resorts and the Palm Springs Chamber of Commerce.
PHOTOS COURTESY OF THE PALM SPRINGS HISTORICAL SOCIETY: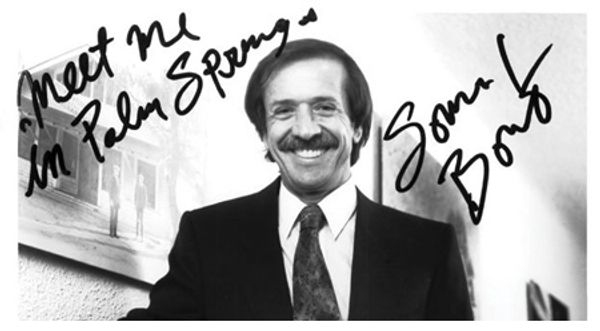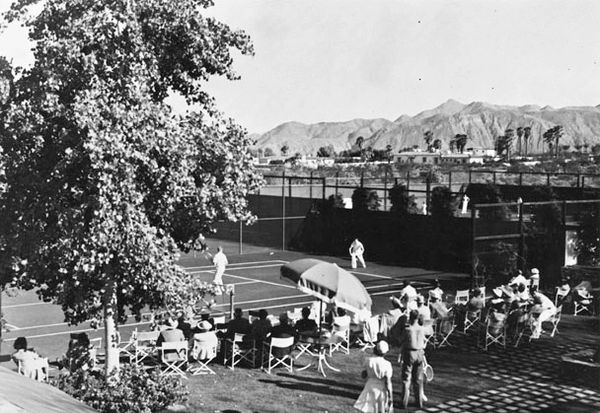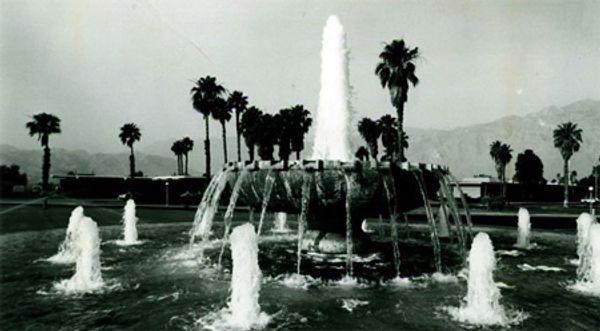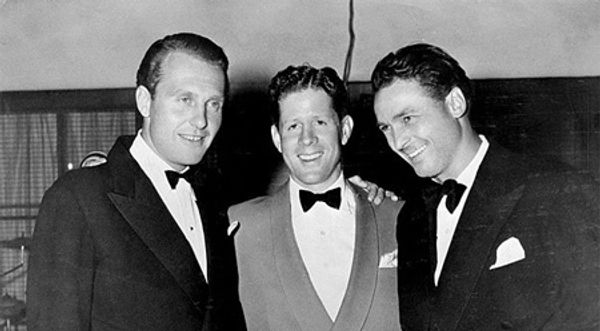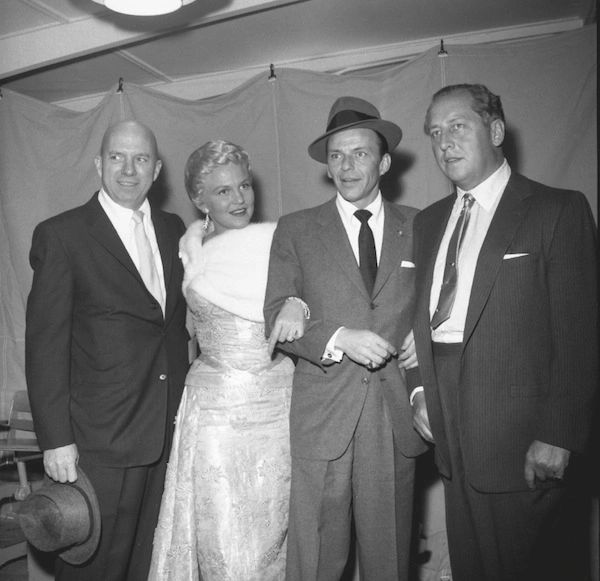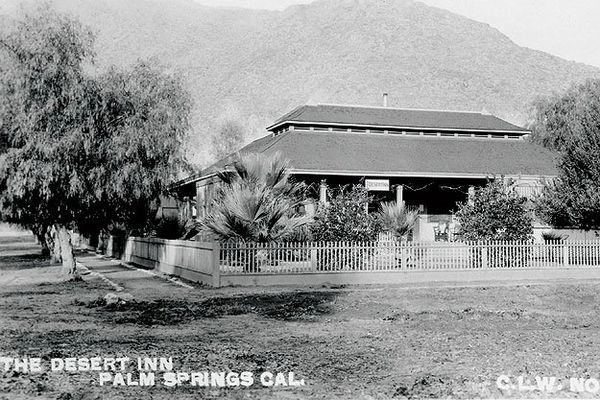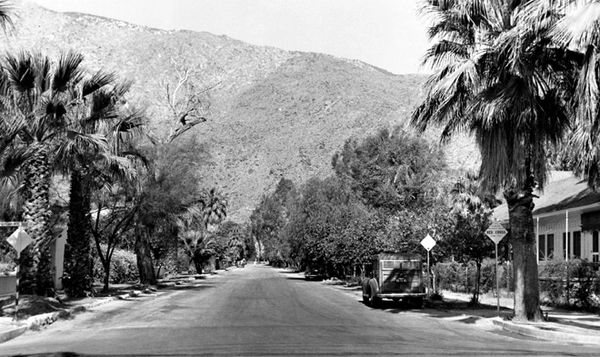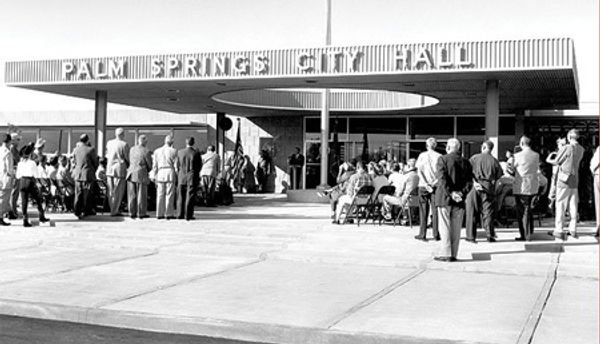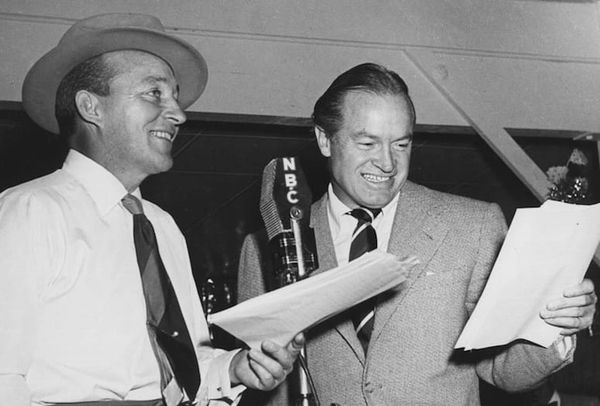 Copyright © 2023 – All Rights Reserved.
Powered by City of Palm Springs
Endnotes:
Keith McCormick: mailto:Keith@classic-carauction.com?subject=Palm%20Springs%2085%20Car%20Parade
[Image]: https://fourtwentybank.com/
https://fourtwentybank.com/: https://fourtwentybank.com/
LGBTQ+ History & Archives of the Desert: https://lgbtqpshistory.org/
https://lgbtqpshistory.org/: https://lgbtqpshistory.org/
DESERT BEER COMPANY (DBC) NOW OPEN: https://coachellavalley.com/desert-beer-company-dbc-now-open-inside/
Four Twenty Bank Thriving in Palm Springs : https://coachellavalley.com/four-twenty-bank-thriving-in-palm-springs/
Fishermans Grotto Now Open till Midnight: https://coachellavalley.com/fishermans-grotto-now-open-till-midnight/
Source URL: https://coachellavalley.com/palm-springs-celebrates-85-years/
---