Hurricane, Heat Warnings, a Fullmoon, Flashfloods and Wildfires on Tap For Weekend
by Publisher CoachellaValley | September 7, 2022 10:01 pm
Can a hurricane in Mexico bring relief to SoCal heat wave? It's expected to bring plenty of moisture
Hurricane Kay is expected to bring plenty of moisture to Southern California, with temperatures still forecast to be high heading into the weekend and humid conditions sticking around through Sunday.
According to National Weather Service reports on Tuesday, Sept. 6, the prolonged heat wave will finally break this weekend as a rapidly weakening tropical cyclone Kay stalls offshore. Tropical cyclone Kay will bring cloudy skies and a chance of showers, flash floods and thunderstorms this weekend across Southern California.
As brush fires rage and air quality is compromised, Mother Nature might offer a weekend respite of sorts.
As of Wednesday afternoon, the National Hurricane Center reported Kay was expected to drench the Baja California peninsula and portions of mainland northwestern Mexico on Thursday. The hurricane was forecast to arrive in Southern California Friday night and into Saturday, but by then will fizzle to a tropical storm, according to the NHC.
Hurricane Kay is expected to break the heat wave that's searing the region and it may tame ongoing wildfires, but the storm is predicted to bring wind and flooding.
Still, the National Weather Service predicts Kay will bring "heavy rain" and some thunderstorms across Riverside County. A flood watch will be in effect starting Friday afternoon in portions of the county, including the Coachella Valley, the local mountains and the San Gorgonio Pass Area near Banning, according to the NWS.
"Flooding caused by excessive rainfall is possible," according to the NWS's weekend forecast for Riverside County. "Excessive runoff may result in flooding of rivers, creeks, streams, and other low-lying and flood-prone locations."
An excessive heat warning remains in effect through 8 p.m. Friday across the county, but as Kay moves in temperatures are forecast to plummet — with daytime highs Saturday dropping more than 20 degrees across the region, including the Coachella Valley where the mercury is expected to hit just 86 over the weekend.
All of this might be good news for firefighters who are battling the Fairview blaze[4] in Hemet, California and other brushers, but wind is forecast with Kay's arrival. A high wind watch will be in effect Friday morning through the evening across western Riverside County, according to the NWS.
Adding to the Drama Saturday Brings the Full Moon For September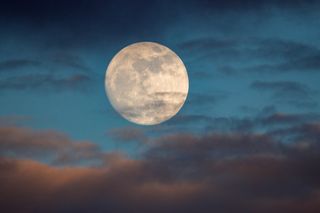 The next full moon will occur on Saturday, Sept. 10 at 2:59 a.m. PDT (0069 GMT), but the moon will appear full the night before and after its peak to the casual stargazer.
The September full moon[5] in 2022 is also the Harvest Moon[6], so named as it coincides with the annual crop harvest in the Northern Hemisphere. is also known as the Full Sturgeon Moon.
Endnotes:
DESERT BEER COMPANY (DBC) BREWERY NOW OPEN: https://coachellavalley.com/desert-beer-company-dbc-now-open-inside/
DesertBeerCompany.com: http://DesertBeerCompany.com
National Sports Show Live… GET IN THE GAME: https://coachellavalley.com/rudy-dog-show-rudy-reyes/
Fairview blaze: https://patch.com/california/murrieta/deadly-fairview-fire-expands-5-000-acres-evacuation-orders-remain
September full moon: https://www.space.com/38006-september-full-moon.html
Harvest Moon: https://www.space.com/33790-harvest-moon-guide.html
Source URL: https://coachellavalley.com/hurricane-heat-warnings-a-fullmoon-flashfloods-and-wildfires-expected/
---