DESERT BEER COMPANY (DBC) IN PALM DESERT NOW OPEN 6 DAYS A WEEK
by Publisher CoachellaValley | August 7, 2023 3:49 pm
DESERT BEER + DESERT LIFE
Desert Beer Company (DBC) is the concept of Devon Sanchez, owner and brewer. The brewery has reopened inside, with food, and live music on their patio, paired of course with any of their 20 fresh, cold craft beers available today.
HOURS OF OPERATION
MONDAY – CLOSED
TUESDAY-THURSDAY: 2-9PM
FRIDAY/SATURDAY: 12-10PM
SUNDAY: 12PM-6PM
CHEERS!
OPEN FOR INDOOR & PATIO!!!
KEEPING THE BEER FLOWIN'
CLICK HERE[2]
TO VISIT OUR STORE WEBSITE[3]
PURCHASE [4]E-GIFT[5] CARDS HERE[6]
Also Available – Straight West Coastin'!!!! 8% ABV West Coast IPA – made with Centennial, Cascade, Citra and Galaxy hops! About 65-70 IBUs
N/A Options – La Croix, Variety of Sodas
CHOCOLATE MILK STOUT MADE W/ CINNAMON, VANILLA, GROUND COCOA
COLLABORATION BEER W/ COACHELLA VALLEY BREWING COMPANY
UPCOMING EVENTS:
EVENTS
Tuesday June 6 – Trivia Night starts at 6:30PM
Thursday June 8 – Acoustic Night w/ The Sieve & the Saddle (6-8PM)
Tuesday June 13 – Trivia Night (Starts at 6:30PM)
Thursday June 15 – Acoustic Night w/ Rick Shelley (6-8PM)
Tuesday June 20 – Trivia Night (Starts at 6:30PM)
Thursday June 22 – Acoustic Night w/ The Sieve & the Saddle (6-8PM)
Tuesday June 27 – Trivia Night (Starts at 6:30PM)
Thursday June 29 – Acoustic Night w/ Rick Shelley (6-8PM)
DESERT BEER COMPANY
Rotating Pop-Up Food Vendors
DJs Louisiana Kitchen Instagram[10]
What's Cookin CV Instagram[11]
Villegas Kitchen (Birria) Instagram[12]
Popping Off Pies Instagram[13]
Croux & Company Instagram[14]
The brewing facility is your backdrop giving this space it's cool and exciting atmosphere that you're sure to find your next sour, lager, saison, IPA…more…with something always new on tap.
Their newest "A Red State of Mind," is a Double IPA that caught my eye and tastebuds right away. This beet-based DIPA, is a collaborative effort with friend and Brewmeister, Ryan Blondell, of Brewcaipa[16] Brewing Company in the city of Yucaipa, California just west of us here in the Coachella Valley.
If you're not sure exactly what you desire or if you are looking for your next favorite, try their samplers to get the most out of your outing with friends and family.
Desert Beer Company (DBC) is a comfortable, casual place where all are welcome to come enjoy a high-quality, fresh craft beer served up by their helpful, cicerone-certified server team that can guide any guest through their brewing process, leading guests to their new favorite glass of beer, or seltzer.
DesertBeerCompany.com[17]
[18]
FOLLOW THEM
[20][21][22][23]Follow Desert Beer Co. on Facebook[24], Instagram[25] and Twitter[26] for upcoming events and new beers on draft. We are always bringing out new beers, new styles to fill all 21 beer taps with delicious, fresh beers for you to enjoy. Come and get a taste! They are now open!
It is conveniently located off the I-10 and Country Club Drive.
DEVON SANCHEZ, OWNER & BREWER
Owner and Brewer, Devon Sanchez knows beer as a homebrewer for more than a decade and as a former employee at Coachella Valley Brewing Company. He worked in production, packaging, delivery, sales and was a taproom manager there for 3 years.
Sanchez opened DBC in July, 1999, just seven months before COVID, and has managed to survive 2020 thanks to a lot of hard work from his team and support from the community.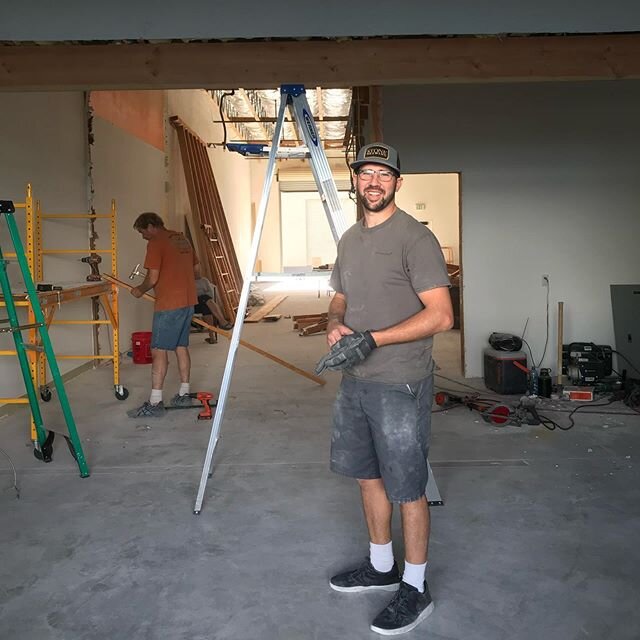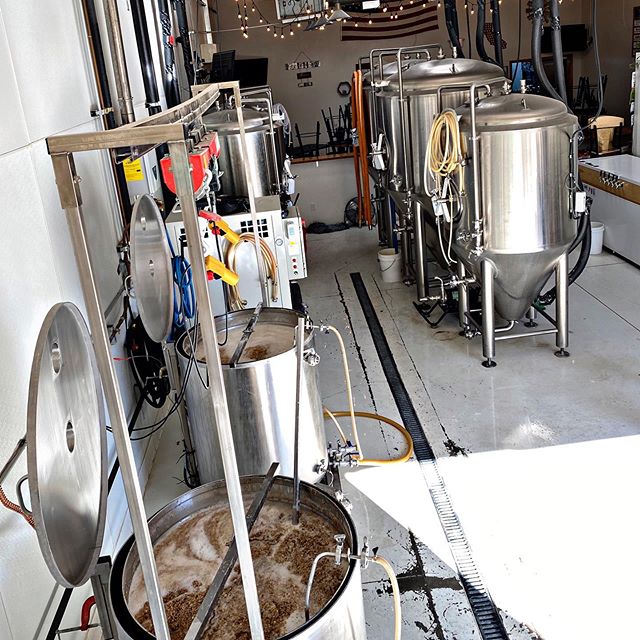 Sanchez was born and raised in the Coachella Valley. After graduating from Palm Springs High School and attending College of the Desert for general education, he transferred to San Diego to attend the University of California, San Diego while working full time.
While going to school he was taught the beer basics from his roommate who worked for Ballast Point Home Brew Mart and brewed as much as possible. After completing a Bachelor of Arts in Political Science – emphasis on International Relations, he accepted an invitation to work as an intern in Washington D.C. for libertarian think tank Cato Institute.
Tired of the DC politics, he moved to Healdsburg, Sonoma to make wine at Alderbrook Winery for a harvest season.
After learning much about winemaking, he moved down to the Bay Area to work as an assistant brewer at Faultline Restaurant Brewery and bottle/keg-wash at Hermitage Brewing Company. While working at Alderbrook he reached out to Awatere River Wine Company to work the opposite season harvest in Marlborough, New Zealand.
Learning much in the fast-paced world of large production winemaking handling crush for winemakers such as Kim Crawford, he travelled NZ and Australia, landing back in Nelson, NZ to find work in beer-making.
With not much luck due to the winter season, Devon called the new Coachella Valley Brewing Company for the amazing opportunity to help start a new brewery in the place where he grew up.
Working through CVB through construction and build out to cellarman to delivery and taproom service and managing he built a great understanding of the means to follow his dream of opening his own brewery, to serve up delicious brews for the growing population of craft beer drinkers in the Coachella Valley.
PHONE
(760) 360-5320
LOCATION
77770 Country Club Drive, Suite D.
Palm Desert, CA 92211
HOURS
Monday: 2 – 9pm
Tuesday: 2 – 9pm
Wednesday: 2 – 9pm
Thursday: 2 – 9pm
Friday: 12pm – 11pm
Saturday: 12pm – 11pm
Sunday: 12pm – 6pm
Holidays Closed:
Easter, Independence Day, Thanksgiving, Christmas
Holiday Hours:
Christmas Eve 3pm-8pm
DESERT BEER COMPANY
Desert Beer Company operates as a microbrewery with a tap Room to serve beer by the glass in tastings and pints in addition patrons can leave with a growler large bottles or crowlers (can growlers) and kegs to go.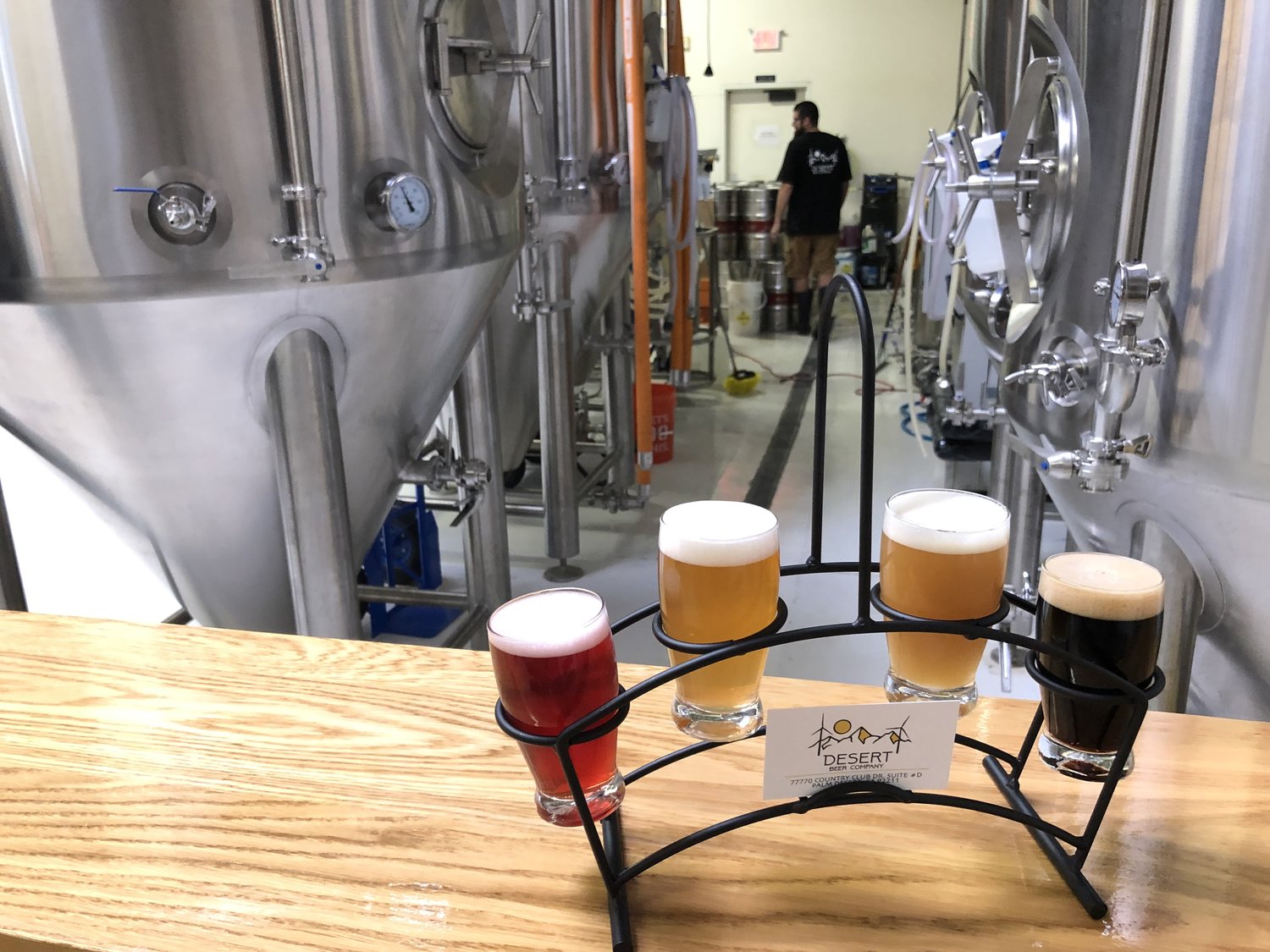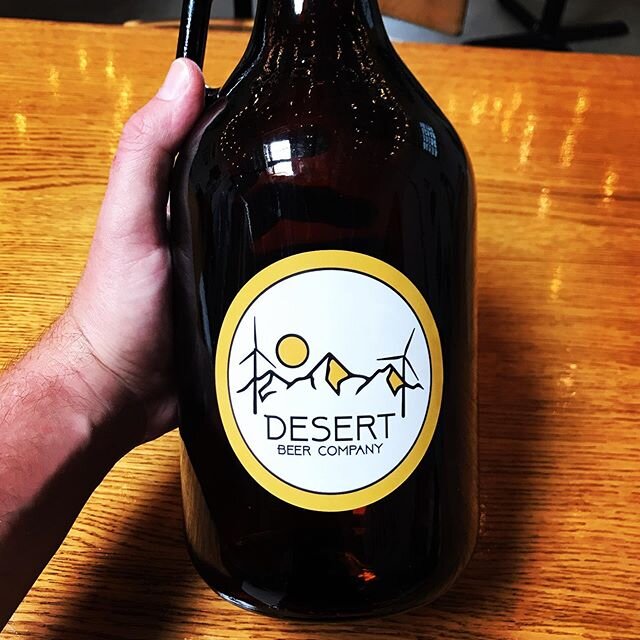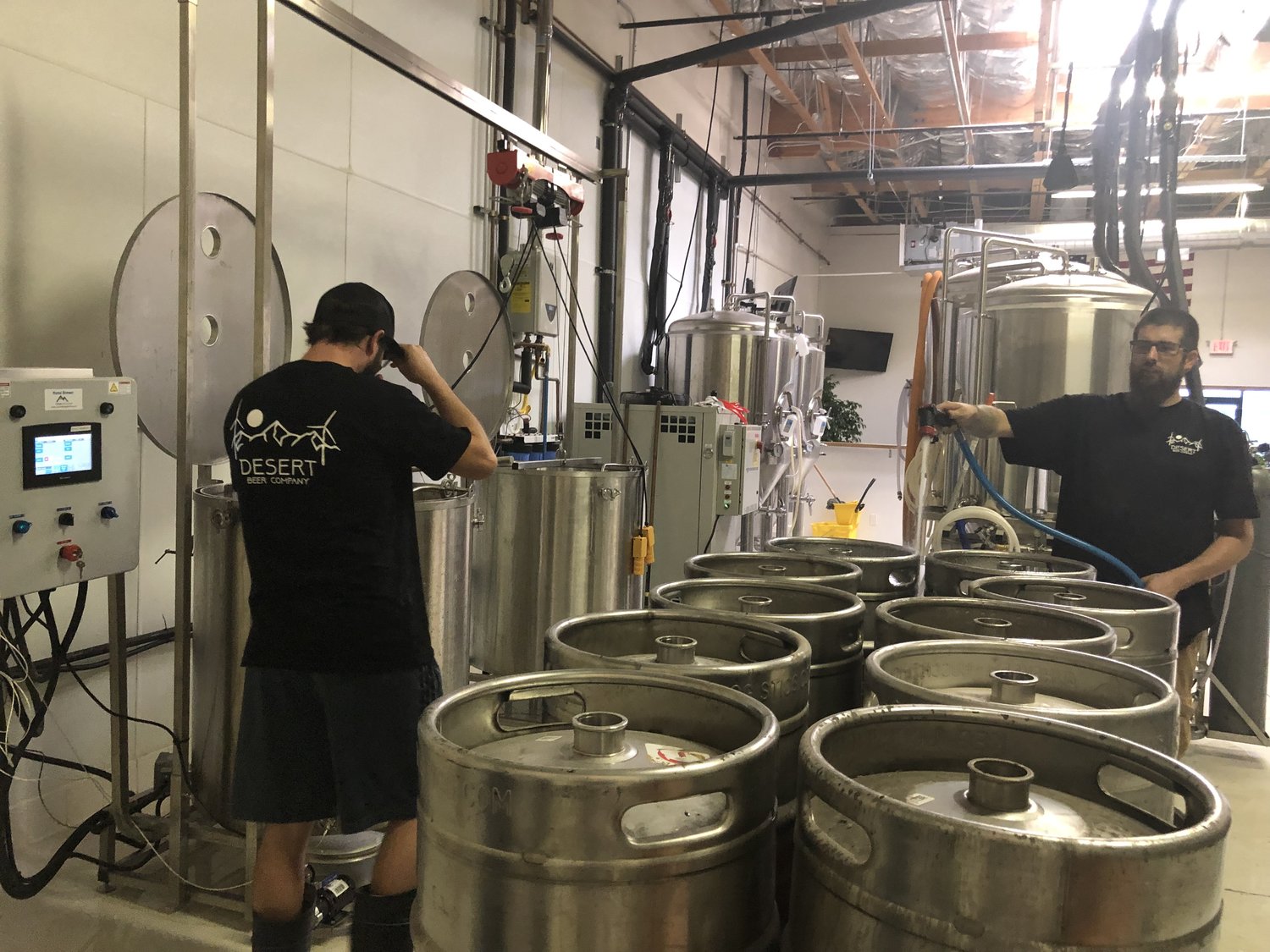 Sanchez hosts local food Wednesday through the weekend and for special events such as food and beer pairings and special beer releases. Eventually Sanchez plans to can the beer with a mobile canning company in 16 oz cans in a 4 pack or 6 pack format.
NEW POP-UP FOOD VENDORS
FOOD THIS WEEKEND: Popping Off
FOOD THIS WEEKEND: Hoja Blanca

DESERT BEER COMPANY STAFF
CHANCE BAILEY, BREWER
JUSTIN YOUNG "JY", BREWER/BREWERY OPERATIONS
TERA WILLIS, MANAGER & EVENTS COORDINATOR
MORGAN STECHLER, TAPROOM BEERTENDER
ALLISON LOPEZ, TAPROOM BEERTENDER
LARAMIE BAILEY, ARTWORK & MARKETING
Did someone say parties, clubs, networking, friends, food, music & beer?
IMPORTANT NOTICE
THE TAPROOM IS OPEN
PLUS NEW LONGER HOURS OF OPERATION
HOURS OF OPERATION
MONDAY-THURSDAY: 2-9PM
FRIDAY/SATURDAY: 12-10PM
SUNDAY: 12PM-6PM
CHEERS!
WE THANK YOU FOR ALL YOUR SUPPORT DURING THESE TIME!
OPEN FOR INDOOR & PATIO!!!
KEEPING THE BEER FLOWIN'
CLICK HERE

[33]
TO VISIT OUR STORE WEBSITE

[34]

At Desert Beer Company we want to keep the beer flowing!

We are offering our growlers at just $8 for a 64oz growler and fills of different styles, starting from $16. If you already have a growler, we will wash it and fill it when you come for your pick-up. We also now have Crowlers!

Must be 21 or older to purchase. Individual picking up beer will have to show valid ID to receive beer.

If you have any questions, please let me know. Drop me an email at desertbeerco@gmail.com[35] or call me at

(760) 360-5320.

Thank you for your support during these challenging times!

Cheers!

Devon & Tera

Endnotes:
DesertBeerCompany.com: http://DesertBeerCompany.com
CLICK HERE: https://www.desertbeercompany.com/
TO VISIT OUR STORE WEBSITE: http://desertbeercompany.com/
PURCHASE : https://www.clover.com/online-ordering/desert-beer-company-palm-desert
E-GIFT: https://www.clover.com/online-ordering/desert-beer-company-palm-desert
CARDS HERE: https://www.clover.com/online-ordering/desert-beer-company-palm-desert
WHAT'S ON TAP: http://DesertBeerCompany.com
Owning a Vacation Home Easier Than Ever!: https://coachellavalley.com/owning-a-vacation-home-has-become-easier-than-ever/
Live With Owner Devon Sanchez – Membership Rollout, Music, Food and an exclusive interview about their new place they are building out now!: http://DesertBeerCompany.com
Instagram: https://www.instagram.com/djslouisianakitchen/
Instagram: https://www.instagram.com/whatscookincv/
Instagram: https://www.instagram.com/villegask1tchen/?hl=en
Instagram: https://www.instagram.com/poppingoffpies/
Instagram: https://www.instagram.com/crouxandcompany/
Fishermans Grotto Now Open till Midnight: https://coachellavalley.com/fishermans-grotto-now-open-till-midnight/
Brewcaipa: http://www.brewcaipa.com/
DesertBeerCompany.com: http://DesertBeerCompany.com
: https://www.instagram.com/CoachellaValley
WATCH NOW LIVE – : http://DesertBeerCompany.com
: https://www.facebook.com/desertbeerco/
: https://twitter.com/desertbeerco
: https://www.instagram.com/desertbeerco/
: mailto:desertbeerco@gmail.com
Facebook: https://www.facebook.com/desertbeerco/
Instagram: https://instagram.com/desertbeerco
Twitter: https://twitter.com/desertbeerco
A New Landmark La Fe Wine Bar: https://coachellavalley.com/a-new-landmark-la-fe-wine-bar/
[Image]: https://www.instagram.com/p/B64SJsAHr4D/
[Image]: https://www.instagram.com/p/B7ZA_Y6niov/
DesertBeerCompany.com: http://DesertBeerCompany.com
[Image]: https://www.instagram.com/p/B-aR049DIUd/
Devon Sanchez, Brewer Desert Beer Co. Mashing in on new brews for opening parties!: http://DesertBeerCompany.com

CLICK HERE

: https://www.desertbeercompany.com/

TO VISIT OUR STORE WEBSITE

: http://DesertBeerCompany.com
desertbeerco@gmail.com: mailto:desertbeerco@gmail.com
Source URL: https://coachellavalley.com/desert-beer-company-dbc-now-open-inside/
---