ARENA HIRING PART-TIME POSITIONS
by Publisher CoachellaValley | August 8, 2023 8:00 pm
ACRISURE ARENA TO HOST FOOD & BEVERAGE/HOSPITALITY JOB FAIR
THURSDAY, AUGUST 10, 3PM – 6PM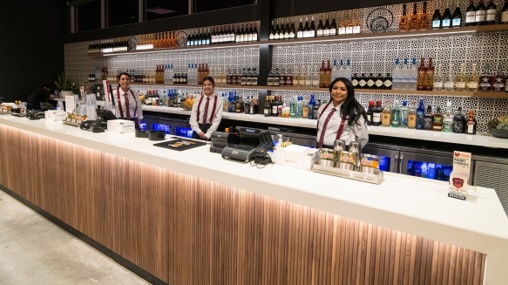 WHAT: Acrisure Arena[1], the newest world-class venue in Southern California, today[2] announced it is hosting a Food & Beverage/Hospitality Job Fair on Thursday, August 10, 2023, from 3pm – 6pm.
Recruiters are hiring for a variety of hospitality positions to start work immediately. Applicants are encouraged to apply for job positions ahead of attending the events on the Acrisure Arena website[4]. Acrisure Arena encourages all qualified applicants to apply. Roles include:
Head Cooks
Line Cooks
Dishwashers
Bartenders
Barbacks
Cashiers
Warehouse staff and more
WHEN: Thursday, August 10, 2023, 3p– 6p
WHERE: Acrisure Arena
Main Entrance
75702 Varner Rd., Palm Desert, CA 92276[5]
About Acrisure Arena
America's hottest music festival destination finally has the world-class arena it deserves. Opened December 14, 2022, the Acrisure Arena provides the greater Palm Springs area of Southern California with a premiere 11,000+ capacity venue to host the biggest artists and acts on the planet. Designed specifically for hockey and concerts, the new arena provides top-tier hospitality, artist amenities, and all of the benefits of a modern music and sports venue. In addition, the facility will serve as the new home of the American Hockey League affiliate of the Seattle Kraken, the Coachella Valley Firebirds.
The Acrisure Arena is a $300+ million project that is being 100% privately funded through outstanding partners Oak View Group, Seattle Kraken, and Live Nation. Learn more at AcrisureArena.com[7] and follow Acrisure Arena on Facebook[8], Instagram[9], Twitter[10], and LinkedIn[11].
Endnotes:
Acrisure Arena: https://ymlptr9.net/50defmqyhuhapaewqsbafawwyadaqjbwj/click.php
today:
DESERT BEER COMPANY (DBC) IN PALM DESERT NOW OPEN 6 DAYS A WEEK: https://coachellavalley.com/desert-beer-company-dbc-now-open-inside/
website: https://ymlptr9.net/19f4bmqyhuwaxaewqsbatawwyataqjbwj/click.php
75702 Varner Rd., Palm Desert, CA 92276:
Fisherman's Market & Grill Now at Acrisure Arena: https://coachellavalley.com/fishermans-market-grill-now-at-acrisure-arena/
AcrisureArena.com: http://AcrisureArena.com
Facebook: https://ymlptr9.net/008b4mqyhuqavaewqsbaxawwyakaqjbwj/click.php
Instagram: https://ymlptr9.net/53995mqyhuyazaewqsbaiawwyaaaqjbwj/click.php
Twitter: https://ymlptr9.net/0ce72mqyhesazaewqsbaaawwyaxaqjbwj/click.php
LinkedIn: https://ymlptr9.net/95ffcmqyheuaraewqsbanawwyadaqjbwj/click.php
Source URL: https://coachellavalley.com/arena-hiring-part-time-positions/
---